KaveMan Aquatics
For the love of aquariums
Welcome to the amazing journey of the aquarium hobby, if you aren't already in deep! lol My name is Kev, and here at KMA I teach and showcase all of the knowledge I've accumulated over the years of being an aquarium enthusiasts. You'll find helpful articles and videos, as well as lessons and guides on how to keep fish and answers to any problems you may be encountering.

Here you can explore the KaveMan Academy, where I teach all the methods to achieving a crystal clear tank, a step by step guide on how to keep African Cichlids, and access to my much requested 1-on-1 Coaching.

You'll also find a bunch of free information in the blog section of my site. If you're a beginner to this hobby I recommend you check that out!

In addition to this, we have a whole load of educational videos free to watch. Videos made for those that may be new starting out to this hobby, and videos made for the guys that have experience, but may just need some question answering.

I would very much consider myself a teacher/coach in this field. All the content produced is designed to increase your knowledge and teach you about this complex but beautiful hobby.
KaveMan Kev
My passion for this hobby began many years ago, when I had my very first goldfish in a bowl. Since then, I have gained a great deal of knowledge and developed a highly competent understanding of marine life and aquarium keeping.

Since starting the channel, I have helped countless amounts of people succeed in this hobby. From helping beginners choose their first tank and fish, to helping more experienced enthusiasts gain a better understanding of their fish, dietary requirements, environmental importance and equipment maintenance.

I have accumulated over 100,000 subscribers on my YouTube channel. I upload weekly and teach a lot of valuable lessons to my viewers, while also sharing my own journey as I continue to grow as well. Even experienced fish keepers learn a thing or two from the channel. I have just launched YouTube Memberships as well, with tons of rewards and benefits to those who sign up, but more about that later.
No More Cloudy Water!
Available in eBook & Paperback
There's nothing more frustrating than finally finishing setting up your tank and filling it with water, for the water to turn out cloudy and the tank to look ugly. These tanks are meant to be colorful and beautiful, flourishing with life.
Understanding this frustration, I created "Crystal Clear Aquarium Water". This book is in high-demand and at only $4.99 I am not surprised. The lessons you'll learn from this far outweigh the cost. Cloudy water is one of the most common issues people tend to run into when it comes to aquariums. With the tips and advice you'll get from this book, your water will turn crystal clear within a matter of hours…and stay clear!

You'll discover what causes cloudy water, the essential tools you should be using during your water changes to prevent it and the cheapest and easiest solutions.
These fish are one of my specialties. I have an excellent understanding of their behaviors, and what it takes to keep these fish successfully.

Unfortunately for me, when I first got my hands on these guys, there was little to no information out there and I ended up struggling to keep my cichlids alive. As a result, there were many casualties along the way.

I know it can be difficult to dive right in, after all you should be committed to these fish first right?

Well that's why I created a Free Webinar Training with the TOP 3 SECRETS on Keeping African Cichlids. These are the "must knows" about them and it's an excellent starting point to your journey. Watch a quick intro video to the free training or REGISTER HERE for next available Webinar!
Now Available in Book formats!
Many students of the online course have requested a book version, so I listened!
You can now learn all the lessons of the online video course in eBook, Paperback, or Hardcover format! Nothing like holding a good book in your hands!
BTW, purchase the Online Course, Paperback, or Hardcover book, and you'll get the eBook Free! 😊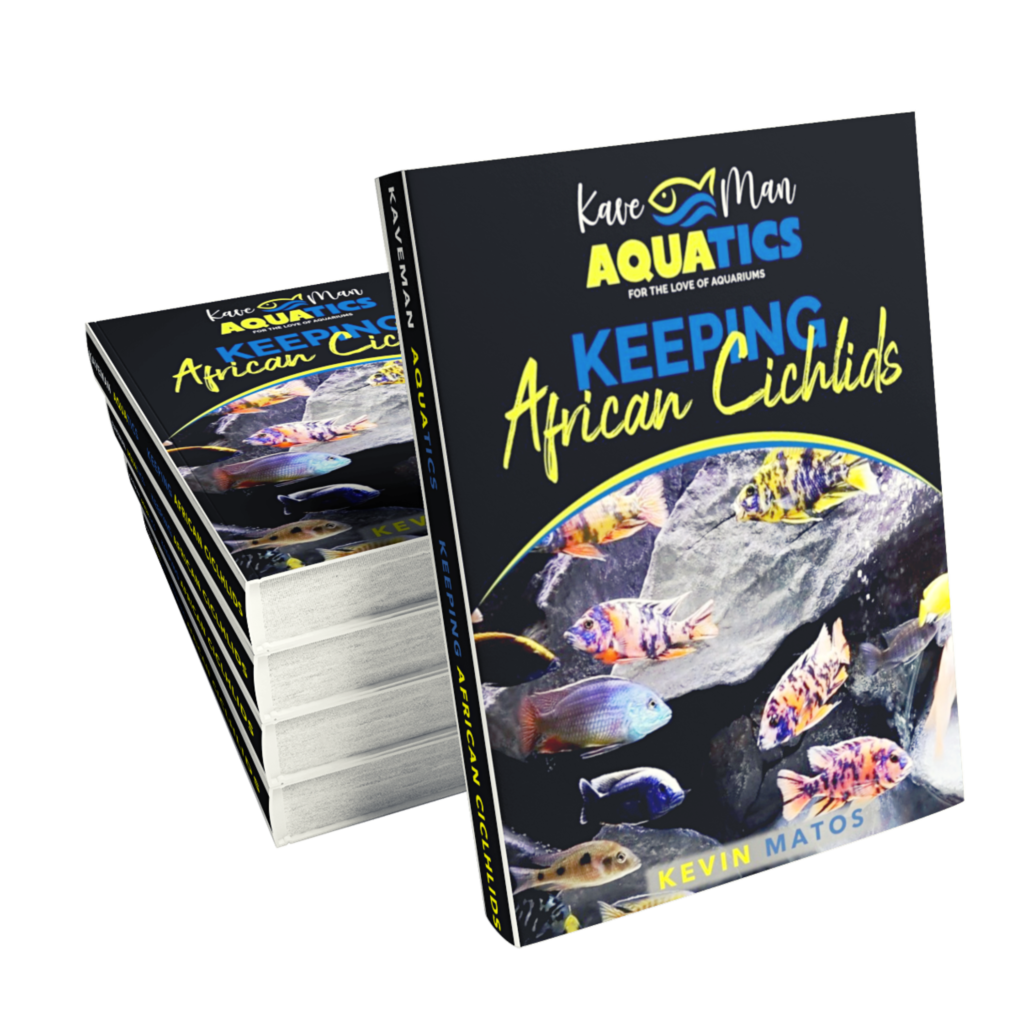 1-1 Coaching
For the guys requiring additional help, I advise you to check out my 1-1 coaching. It's a great way for you to get direct answers to questions you may have that only apply to your specific set up. We'll leave no stone unturned and make sure I provide solutions to all of your problems.

I even offer a video call service, where you can use your camera to show me specific pieces of equipment or fish that may be causing you problems. This is a popular option for those first setting up their tank.

FAQs and Q&As are great, but sometimes, 1-1 communication can be a lot more clearer and precise for those more specific questions.

KaveMan Aquatics on YouTube
I started my YouTube channel over 2 years ago now and have recently surpassed 100,000 subscribers and nearly 8 million views across my videos. I take great pride in my channel and I'm a very active creator. I upload weekly and sprinkle in short content daily. I also do my best to reply to the questions in my comments section.

You'll find a lot of educational videos on my channel as well as the occasional humorous skit to keep you entertained. I teach lessons to people of all levels, from beginners to experts in this hobby, there's always lessons to be learnt.

Head on over to my channel, discover what tricks and tips you could be doing to save money, improve fish health and get the most out of your aquarium.
YouTube Memberships
I'm excited to announce, after much anticipation I have finally launched channel memberships. This has been highly requested by my subscribers and creates an opportunity to not only give back to the channel, but to become more involved and active with the channel, and the fish keeping community as a whole.

Starting at just $1.99 a month, this is a super affordable way of becoming part of a community that can accompany you on your journey of becoming an expert aquarist. Engage with myself and other members using exclusive loyalty badges and emojis that you can unlock as you extend your loyalty to the community.

Benefit from perks such as members only live streams and chats. Guaranteed replies from myself and exclusive behind the scenes footage, and that's not all…

Head over to the YouTube Memberships page to discover what benefits & rewards you can earn.
KaveMan Blog
If you're a beginner to this hobby, then you're gonna want to check out the blog section. This is your ultimate tool, a library, packed with helpful tips and guidance for whatever stage you're at. You'll find articles written by myself, and others, covering filtration, nitrogen cycles, vacuuming, quarantining fish, water changes, cloudy water solutions, beginner mistakes and much more.

Before you spend thousands of dollars on your setup and equipment, please check out the blog first. You could save yourself hundreds of dollars from acquiring the right knowledge first.
Sign Up For The Newsletter
Stay up to date with Tips and Advice on all topics of the Aquarium Hobby!
affiliate shop
We know you've noticed the abundance of choices out there when it comes to aquarium products and equipment. We feel your pain!

For this reason we created the Kaveman Affiliate shop. Filled with all the products Kevin uses for his fish and tanks and recommends for you and yours.

Using the affiliate shop to purchase your aquarium needs is also a great way to help support KaveMan Aquatics through a small commission earned from each purchase, at no additional cost to you.
First Ever KaveMan NFT's
KaveMan NFT's are here! These are very new and we're all learning more about NFT's together.
Need some help understanding what they are and how they work? I've got you covered. Watch my tutorial video here.