My "Verified Methods and Principles" and jump past the frustrating learning process of keeping African Cichlids
The ultimate step-by-step guide for fishkeepers to have and maintain a crystal-clear tank crowded with Colorful thriving African Cichlids.
In the next few minutes, you'll discover how to avoid coming back from work to a tank full of dead fish.
And just from following a few "Verified" core principles and methods…
You'll not only make your "non-beginner friendly" African Cichlids survive…
But THRIVE, growing with brimming colors, inside a crystal-clear tank with no algae or dirty clouds!
I can say this claim with confidence because…
I've tried out every bit of advice I could find online for 4 years…
From so called "experts' blogs" to random articles on the internet.
And after losing over 20+ beloved African Cichlids and wasting $1000 dollars on buying new fish, bad products, and unnecessary equipment…
I finally discovered breakthrough methods and principles that have allowed me to create the perfect thriving environment for my African cichlids.
And now that I've tested and verified those methods and principles…
I want to give you the opportunity to copy and apply what I have discovered and gain 4 years' worth of experience in one single sitting!
Here's what Mike said after watching this course.

Afton almost finished the entire course in a single sitting, and now he's ready to keep African Cichlids in his tank!

Abdullah went from knowing nothing about this hobby to being a confident fish keeper in a single sitting!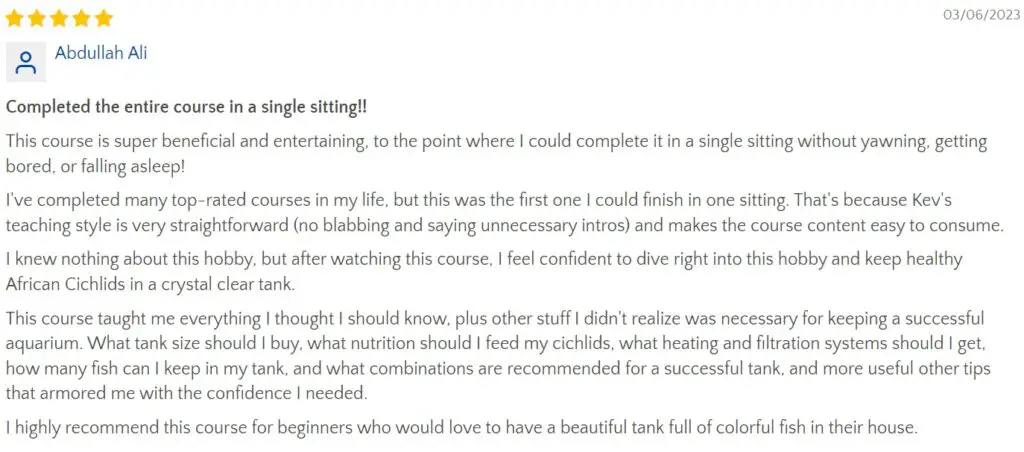 Think about it, if somebody who hadn't even started this hobby managed to become a confident fishkeeper in a single sitting…

Then, you can easily do the same.

In fact, you'll not only become confident but you'll be more experienced than fishkeepers who've been in this hobby for more than a decade!

Here's Detton as an example, who's been in this hobby for 15 years, which is more than a decade! Yet still gained expertise after taking this course!


Meaning that after taking this course, you'll skip 15 years of trials and errors and dive into the fishkeeping hobby…

Without dealing with beginner (or advanced) problems and spending your money on upgrading your aquarium…

Rather than dumping it on failed attempts to figure out how to keep your African Cichlids alive!
But that's not all! You'll also discover:
Now don't be daunted by what you're going to learn because…

My "Verified Methods and Principles" are as easy as 1, 2, 3!
And I'll explain them to you, in a straightforward way, without a boring introduction or fluffs and puffs.
Don't take my word for it. See for yourself…




Instant, Lifetime Access!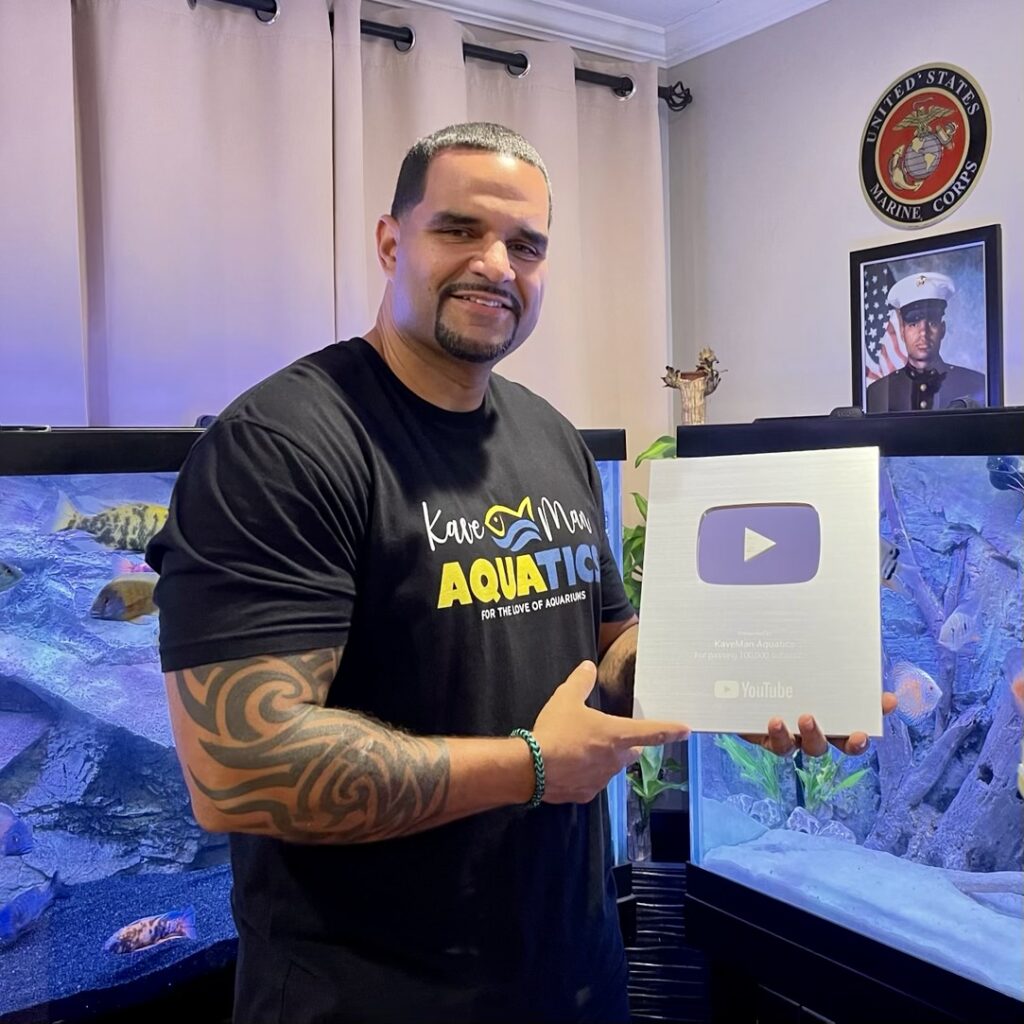 About The KaveMan
Hello there, I'm Kevin, and I fell in love with this hobby in 1987 when I was 7 years old, keeping a goldfish in a bowl tank, and now I've been keeping African Cichlids for 8 years.
In 2015, I dived into this hobby without any knowledge or background, resulting in making tons of mistakes and having to deal with endless frustrations and problems, from cloudy water to dead fish.
During my journey, I've read a bunch of misleading online forums about adjusting water parameters and how to deal with African cichlids' temperaments which have cost me around 1000$ dollars and the lives of over 20+ beautiful African Cichlids.
In 2021, I managed to find solutions to the problems I've faced after a long series of trials and errors, and now I have more than 70+ thriving African cichlids brimming with colors.
Now my goal is to share what I've discovered and end your frustrations so you can watch your fish thrive in no time without wasting your money!
And with a small investment of 94$, you'll not only learn how to make your African Cichlids thrive…
But also learn how to safely add new fish (or fry) to your tank without disturbing the thriving environment that you've built inside your tank…

Which prevents you from losing your new and old fish and not considering leaving the hobby you like.

Here's what Keith has to say to you after taking my course.


And to remove any doubts that you might have…
I'll offer you a 30-day money-back deal that goes like this:

If you didn't learn anything new, and turned out that you already know everything included in my course.

Simply send me an email (within 30 days of your purchase date) with the subject "I want my money back"…

And I'll send your money back to you, no questions asked.

With that being said…
So, which route are you going to take?
Are you going to learn the hard way?

Looking up conflicting advice on the internet, running through a series of trials and errors, and risking losing money, time, effort, and beloved fish.

Or learn the smart way?

By investing in my "Verified methods and principles,"…

And start preparing to hear compliments every time your friends visit and sees your fascinating aquarium!

Make your choice.

See you on the other side!
© 2022 by KaveManAquatics.com | Terms and Conditions | Privacy Policy | Disclaimer